UPDATE: Palm Canyon Land Swap
You might recall the 2015 call to action from the SDMBA asking to submit comment on the Draft Environmental Impact Statement (Draft EIS) for the proposed land exchange between the Bureau of Land Management (BLM) and the Agua Caliente Band of Cahuilla Indians (ACBCI) that could have potentially impacted access to the "Palm Canyon Epic" (PCE) trails,
link
. On January 25th, 2018 the BLM released the Final EIS and Record of Decision (ROD) to approve a proposed land exchange between the BLM and the ACBCI, with
NONE OF THE LAND PARCELS CONTAINING PCE
going to the ACBCI!
In the map image below, 4 of the yellow squares are going to ACBCI, plus $50k. BLM gets the two orange ones. BLM keeps all the red ones...parcels that were considered but not included in the final transfer. Safe to assume BLM receiving over 400 comments from mountain bikers listing objections helped keep access to the Palm Canyon Epic.
THANK YOU
to everyone who submitted comments.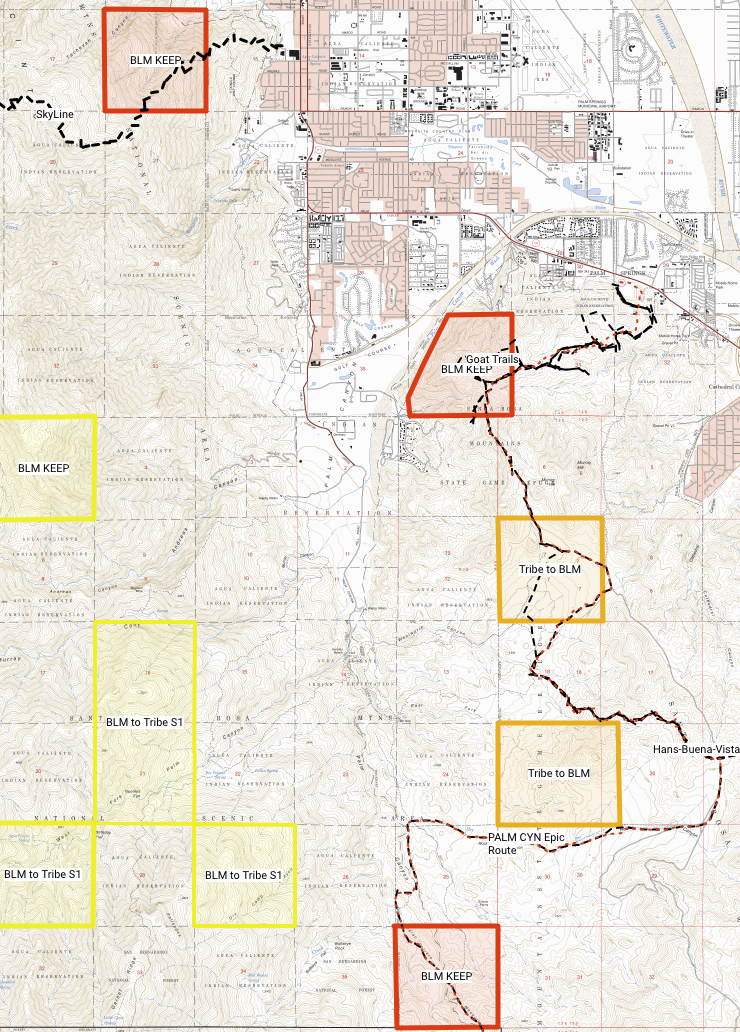 Copies of the Final EIS and ROD are available for review at the Palm Springs-South Coast Field Office and on the Internet at
https://goo.gl/qyjNJa
(click Documents on left menue).
Some highlights from the Final EIS:
"Comments on the Draft EIS received from the public and internal BLM review were considered and incorporated as appropriate into the Final EIS. [...] As a result, the amount of trails that were identified for disposal by the BLM were reduced."
"During preparation of the draft EIS, this particular bike route, comprised of various trail segments in the National Monument, was unknown to those preparing the document. It was only brought to light by individuals submitting comments on the draft EIS"
"the draft EIS will be modified to acknowledge the Palm Canyon Epic as a mountain biking route of distinction."