Mount Laguna Trails Restoration Project
The main goals of the Mount Laguna Trails Restoration Project are to improve connectivity including new trail construction, reroute unsustainable sections of trails, provide restoration to sensitive areas, bring some non-system/social trails into the system and improve mountain biking opportunities within the area to offset user conflict/trail congestion.
We have identified nearly 15 miles of trail that will need to be examined under the NEPA review, but we are confident this plan will improve recreation while also further protecting sensitive resources in the Laguna Mountain Recreation Area.
The below map is a draft as of May 5th, 2018 of a proposal SDMBA has been working on with the Descanso Ranger District since 2016. Please note this is a proposal and is currently undergoing a NEPA review. Further, we do not guarantee this is the final version of the proposal due to changes that may need to be made during the NEPA process.
This map is a compilation of many asks from SDMBA, but also several trails have been identified for reroutes from the Descanso Ranger District.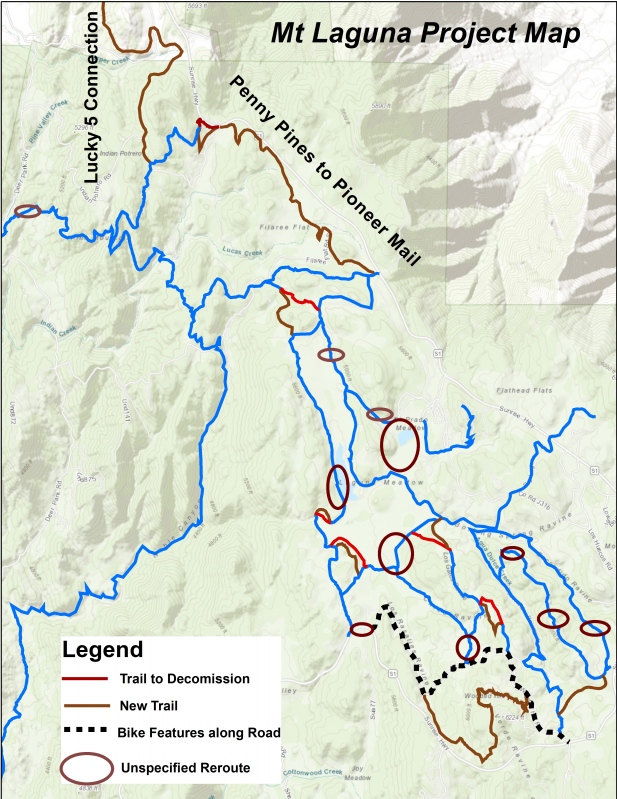 Project Timeline:
July 2016: Descanso Ranger District Recreation Officer invited to SDMBA Advocacy meeting.
February 2017: SDMBA approached Descanso Ranger District with an interest in working on improving our beloved Mt. Laguna trail system.
March 2017-March 2018: several proposal were created, ground-truthed, presented, modified, enhanced, removed and rendered.
April 2018: $15,000
REI
Grant awarded to SDMBA to support this project and help fund planning and necessary studies.
May 2018: agreement reached on scope and scale of proposed project for Mt. Laguna enhancements between Descanso Ranger District and SDMBA.
October 2018: Forest Service will start the NEPA review process as we enter the Forest Service's 2019 fiscal year. SDMBA will most likely enter into a formal collection agreement with the Forest Service. This agreement will allow SDMBA to provide the funds to pay for all the USFS staff time relating to this proposal in addition to our existing volunteer agreement and commitment to assist the Forest Service in building these trails once approved.
2019: USFS specialists are continuing to work on the NEPA review process. This government staff time is being funded by funds raised by SDMBA supporters at the 2018 Mount Laguna Trail Fest and from a generous REI donation.
August 2019: Descanso staff attends SDMBA board meeting to give update of the project. Everything is progressing according to the plan.
2020: projected completion of NEPA review and project proposal approval.
2022: public comment period is anticipated to open mid-year
We thank the Descanso District staff of the Cleveland National Forest for their enthusiastic support of this project and we also thank our members, donors and sponsors for their support of this effort through events like the Mount Laguna Trail Fest!